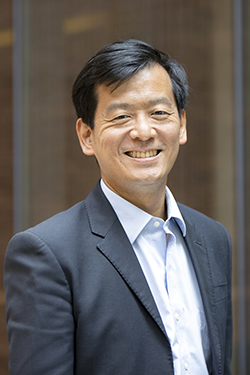 Ing-Haw Cheng
Associate Professor
Rotman School of Management
University of Toronto
105 St George St
Toronto, ON M5S3E6
(416) 978 4232

email:
inghaw.cheng
[at] rotman.utoronto.ca

Research Interests: Beliefs, Incentives, Derivatives
CV
Research Summary (organizes my CV)
SSRN | Google scholar
Data:
Working Papers:
Bayesian Doublespeak (November 2022)
(with Alice Hsiaw)


Why does misinformation persist, and how does it distort long-run beliefs and actions?



Hedging Pressure and Commodity Option Prices (September 2021)
(with Ke Tang and Lei Yan)


Providing liquidity to hedgers earns substantial returns.



Do Managers Do Good With Other People's Money? (October 2020)
(with Harrison Hong and Kelly Shue)


Is corporate social responsibility symptomatic of agency problems?

Papers:

Reporting Sexual Misconduct in the #MeToo Era [video] [SSRN-ungated]
(with Alice Hsiaw)


American Economic Journal: Microeconomics, 2022, 14(4), 761-803.
Strategic uncertainty leads to under-reporting of sexual misconduct.



Distrust in Experts and the Origins of Disagreement
(with Alice Hsiaw)


Journal of Economic Theory, 2022, 200.
Why do individuals interpret the same information differently?



Volmageddon and the Failure of Short Volatility Products [SSRN-ungated]
(with Patrick Augustin and Ludovic Van den Bergen)


Financial Analysts Journal, 2021, 77(3), 35-51.
A closer look at the February 2018 volatility spike.



How Do Consumers Fare When Dealing with Debt Collectors?
Evidence from Out-of-Court Settlements
(with Felipe Severino and Richard Townsend)


Review of Financial Studies, 2021, 34(4), 1617-1660, Lead article (Editor's Choice).
Settlements appear to increase financial distress by draining liquidity.



Volatility Markets Underreacted to the Early Stages of the COVID-19 Pandemic


Review of Asset Pricing Studies, 2020, 10(4), 635-668.
Coverage: [Risk.Net]



Convective Risk Flows in Commodity Futures Markets
(with Wei Xiong and Andrei Kirilenko)

Review of Finance, 2015, 19(5), 1733-1781, Lead article.
Appendix [online]
Who bears risk in commodity futures markets?



Yesterday's Heroes: Compensation and Risk at Financial Firms
(with Harrison Hong and Jose Scheinkman)
Wall Street and the Housing Bubble
(with Sahil Raina and Wei Xiong)
Why Do Hedgers Trade So Much?
(with Wei Xiong)

Journal of Legal Studies, 2014, 43(S2), S183-S207.
Labeling traders as either hedgers or speculators may be misleading.



The Hazards of Debt: Rollover Freezes, Incentives, and Bailouts
(with Konstantin Milbradt)

Review of Financial Studies 2012, 25(4), 1070-1110.
How should debt be structured to balance debt runs and risk-shifting?



The Effect of the Run-Up in the Stock Market on Labor Supply
(with Eric French)

Economic Perspectives (Federal Reserve Bank of Chicago) 2000, Q4 48-65.
Reviews / Chapters:
The Financialization of Commodity Markets
(with Wei Xiong)

Annual Review of Financial Economics, 2014, 6, 419-441.
Commodities are now a popular asset class. How does this affect futures prices?
Coverage: [FT Alphaville]
Inactive papers:

Corporate Governance Spillovers (April 2011)

Accounting fraud is linked to poor corporate governance at competitors.